Accounting Office – Warsaw Ochota: Your Accounting and Finance Solution
When you are an entrepreneur in Warsaw or run a business in the Polish capital, you know how important it is to maintain reliable accounting and financial management. In today's article, we'll take a look at why our Accounting Office with a location – Warsaw Ochota, is a reliable accounting outsourcing partner. You will learn why you should use the services of a professional accountancy firm, the benefits this brings and why Vamik stands out from the competition.
Vamik – Accounting Office close to you – Warsaw Ochota
Let us begin by presenting our accounting office . Our company, based in the Ochota district, operates in Warsaw but we serve companies from all over Poland and abroad. For more than 20 years we have specialised in the area of accounting and bookkeeping, offering a full range of services to companies, in particular in the service of limited liability companies. Our mission is to provide our clients with comprehensive accounting and financial services, allowing them to concentrate on developing their business while we take care of the rest.
Prowadzenie Pełnej Księgowości dla Firm
Bookkeeping and financial management are processes that require not only knowledge, but also time and attention. For many entrepreneurs in Warsaw, keeping full accounts for companies can be an insurmountable task. This is where accounting office Warsaw Ochota Vamik comes in as a helping hand.
Our qualified accountants in Warsaw are ready to take responsibility for all aspects of your company's accounting. From recording business operations to tax returns and preparing financial statements, we provide a full accounting service Warsaw. This means you can rest easy, knowing that your financial affairs are in good hands.
Comprehensive accounting services and full bookkeeping: Warsaw
When you are choosing an accounting office, it is important to choose one that offers comprehensive accounting services. Vamik meets this criterion. Our offer includes not only bookkeeping, but also personnel and payroll services.
Human resources services
Hiring employees involves many responsibilities, including maintaining personnel files, drawing up contracts or accounting for working time. Our HR service in Warsaw allows you to avoid mistakes and unnecessary stress related to personnel management.
Payroll services
Payroll is a particularly important issue for both employees and employers. We offer professional payroll services in Warsaw, which include the calculation of salaries, the preparation of tax returns and the settlement of social security contributions.
Accounting Consultancy Warsaw: Vamik!
When you choose an accounting office, you are not limited to bookkeeping. We also offer bookkeeping consultancy in Warsaw, but not only thanks to our form of service: outsourcing. Our accounting services in Warsaw do not end with bookkeeping – we want to be your partner in business development.
Accounting consultancy Warsaw includes analysis of your financial situation, tax optimisation and support in financial planning. Our aim is to help you get the most out of your business.
Why choose the Vamik accounting office?
Experience: Our accounting office has been operating for many years, earning the trust of numerous clients in the Warsaw area.

Professionalism: our staff are qualified accountants, ready to tackle even the most complex accounting challenges.

Comprehensive: we offer comprehensive accounting services, including both bookkeeping and HR and payroll services.

Consultancy: Our accounting consultancy in Warsaw is a support that helps our clients achieve better financial results.

Proven Solutions: as a proven accounting office in Warsaw, we have numerous references and feedback from satisfied clients.
Why choose the Vamik accounting office in Warsaw's Ochota district?
Accounting office Vamik – Warsaw Ochota is a key outsourcing partner for many entrepreneurs operating in the capital. Vamik, as a professional accounting office, offers comprehensive accounting services, full bookkeeping for companies, personnel and payroll services, as well as accounting consultancy. By choosing Vamik accounting office, you choose the certainty of a reliable and comprehensive accounting service and support in managing your company's finances. Let us take care of your finances so you can focus on developing your business.
Vamik
The team of Accounting Office Warsaw-Vamik has not only theoretical knowledge, but also practical experience in the field of accounting and human resources. We operate in accordance with applicable laws, taking care of the accuracy, confidentiality and timeliness of our services.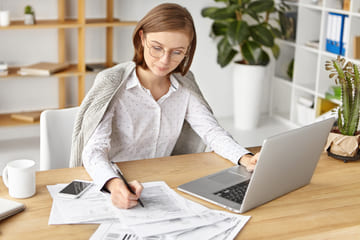 Oskar Duszka
25 Wrzesień 2023
Super przyjemna atmosfera, przyjemna obsługa
Marek Leszczyński
22 Wrzesień 2023
Profesjonalna obsługa, kontakt z klientem idealny. Przy każdym problemie można uzyskać wsparcie.
Agnieszka Kmiecik
5 Wrzesień 2023
Profesjonalnie wykonana usługa. Szczegółowe odpowiedzi na każde pytanie. Jestem bardzo zadowolona z obsługi, polecam 🙂
Kacper Jakubowski
28 Sierpień 2023
Jakość usługi na wysokim poziomie. Rzetelnie i profesjonalnie wykonywana praca. Serdecznie Polecam
Daniela Burak
22 Sierpień 2023
Odpowiedzi na każde pytanie na najwyższym poziomie. Polecam.
Adam Maichrzik
3 Sierpień 2023
Polecam profesjonalne usługi na najwyższym poziomie!
Damian Bobrowicz
22 Listopad 2022
Gorąco polecam, profesjonalna obsługa, zawsze otrzymuję pełne wsparcie i doradztwo biura, gdy tylko zachodzi taka potrzeba.
Uniqa Xanti
10 Wrzesień 2022
Rzetelnie i uczciwie. Przyjazna atmosfera